China's Internet: Who Dominates and Why?
China's internet is somewhat of an unknown realm to many. Due to the restrictions on access and the obvious language barriers, many social media sites and apps that are used internationally, and also those that we use for our regular day-to-day tasks are limited in popularity- or are blocked all together. To fill this void, China's domestic sites and apps have established a tight grip on the market, which isn't loosening any time soon. In a very broad sense, the Chinese internet is dominated by three major players: Tencent, Alibaba, and Baidu (the BATs).
A common misconception is that these companies are extremely similar. However, the revenue breakdown shown below points out the four key areas that each of these actors differentiate on. Tencent focuses largely on gaming and social media, while Alibaba and Baidu largely rely on E-commerce and online marketing, respectively.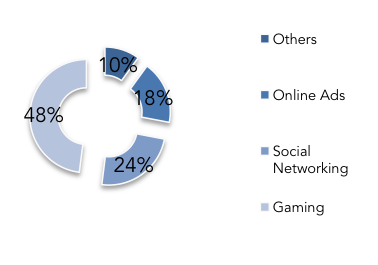 BAT companies truly dominate the vast digital landscape in China, the offshoots of these companies cover a wide variety of online services and products. A popular way to conceptualise these companies is to see them as equivalents to global Internet companies.
TENCENT
Firstly, Tencent is more complex than both Alibaba and Baidu in its function, many compare it to Twitter, Facebook, Spotify, and Steam rolled into one. For example, WeChat, developed by Tencent, is a popular messaging app that does pretty much anything you need- Think Facebook messenger on steroids. You can pay for goods and services, book taxis, book train tickets, send money to friends- again, pretty much anything you need. Tencent also encompasses platforms such as QQ, a popular social platform with diversified functions in music, FinTech, shopping and many more. Boasting over 861 million monthly active users from QQ, almost 900 million users from WeChat, and over 200 million users on it's gaming platform, Tencent's reach is colossal.
ALIBABA
Alibaba is slightly more simple in terms if its purpose and function. Alibaba strengths lie in e-Commerce. The two major platforms that Alibaba run are TMall (that can be compared to Amazon) and Taobao (which could be compared to eBay). Alibaba is China's primary commerce actor, with both platforms boasting over 500 million active buyers each. In addition, Alibaba's major promotion - Single Day Festival (similar to Black Friday) this year recorded $25 billion of transactions in just 24 hours. While their main functions lie in commerce, Alibaba recently acquired Youku, China's biggest video hosting website (comparable to YouTube) controlling roughly one third of the online video market.
BAIDU
Lastly, Baidu can be compared with Google as a similar company. Much like Google, Baidu's revenue comes from its extremely popular search engine Baidu. Offshoots of Baidu include Baidu Maps and Baidu's version of an app store. Baidu has over 650 million active monthly mobile users.
While it is somewhat useful to conceptualise these companies as Chinese equivalents to international services, we cannot rely on this concept. We have to remember that while they share similar elements, these are individual services with unique features, demographics, and trends.
Here in lies the reason for the BATs success. They know their markets inside and out. Giants like Alibaba understand consumer behaviour and trends on each platform and take this into account when formulating and applying strategy. In other words, they understand both the obvious and subtle differences in consumer behaviour across their platforms. This is due to the methods used by all three companies. With all three BAT's maintaining an established 'wallet' app, these companies have tremendous scope in tracking consumer behaviour- from an ad click all the way up to payment, and even beyond- these companies have excellent insight into consumer behaviour across all their platforms.
Thus, when moving forward and establishing your brand in China, it is important not to get used to thinking that China's online platforms are similar to its international equivalents. Instead, you need to have an in-depth understanding of the nuances and complexities that these platforms maintain and know how to take advantage of them.
Comms8 has a wealth of knowledge and experience in understanding Chinese markets and platforms, and can help your brand excel in China's vast digital landscape.